Hi, I'm Erin, a U.S.-raised, Costa Rica-based freelance writer specializing in copywriting (my niche: travel copywriting), content marketing, travel writing, and Spanish-English translation.
So, What Do I Do?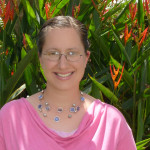 The short answer: I write. Always, with a goal in mind: email list sign-ups, soft inquiries, travel bookings, sales – you name your goal, I'll write to it.
I'm bilingual (English & Spanish) and well-versed in most areas of digital marketing, from website copywriting, to email newsletters, to content marketing for business. For a more complete introduction, please see my services or, for you visual learners out there, jump straight to my portfolio.
Your Expert in Costa Rica
For more than a decade, I've called Costa Rica home. (If you'd like to read a bit about the personality behind this site, check me out.)
From a professional standpoint, I began as a Costa Rica travel writer and later became a Spanish-to-English translator. As I honed my skills and sharpened my expertise, I evolved into a content marketer and copywriter for all things Costa Rica. (And for many things not Costa Rica. But more on that below.)
So, what does this mean for you? To start, I know my stuff. I've traveled Costa Rica. I read La Nación. I understand local business. I understand you. I also know copywriting. I'm a natural at blogging. I love content marketing. And I speak your language (literally).
All this to say, if you need a copywriter, content marketer, or travel writer in Costa Rica, you've found your pro. Which brings me to…
Why hire me?
I'm Bilingual: Say goodbye to miscommunications and error-ridden translations. I'm comfortable doing business in Spanish, and am happy to provide copy in both English and Spanish.
I Communicate: I don't just speak; I listen. Every job begins with your needs, and from there evolves into how I can best serve you. Let's do it your way.
I'm Professional: Tico time may have its place, but it's definitely not in business. I meet my deadlines and strive to exceed expectations.
I'm Easy to Work With: I love to communicate (but of course, I'm a writer!) and will figure out what you need without too much guidance. My job is to reduce your stress and make life easier.
You're My Priority: As I like to say, my job isn't finished until you're thrilled. Your satisfaction means I've done my job.
Let's talk! Contact me to discuss your projects.